Celebrate the end of the school year with your students at TELUS World of Science - Edmonton!
Treat your class to a giant-screen adventure in IMAX AND an out-of-this world experience under the Zeidler Dome. Choose from our library of educational IMAX films AND Zeidler Dome shows (see below).
Explore the science centre together, as you command a lunar lander, observe patterns in nature, hear your own heartbeat, traverse a rock-climbing wall, and so much more!
Your party also includes lunch (pop or water and a choice of personal cheese or pepperoni pizza) at the Purple Pear.
End-of-Year Pizza Parties are available for May and June 2022.
To book your End-of-Year Pizza Party call the Bookings Office at 780-451-3344.
Price*: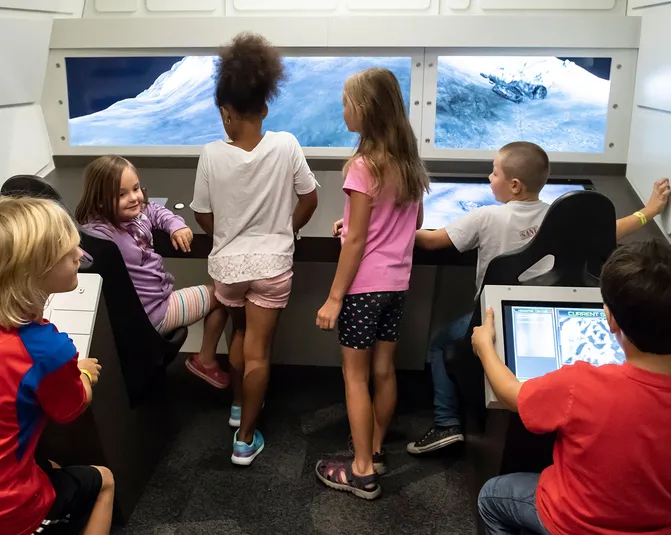 Educational Zeidler Dome Shows**:
Aurorae
Cell! Cell! Cell!
Dawn of the Space Age
Distant Worlds Alien Life
Explore the Universe (a live presented sky show that takes us on a journey from our backyards to the ends of the observable Universe)
Extreme Planets
Forward to the Moon (coming Spring 2022)
From the Earth to the Universe
In My Backyard (recommended for pre-school to grade one only)
Legends of the Northern Sky
One World, One Sky: Big Bird's Adventure (recommended for pre-school to grade one only)
Polar Night
Secrets of the Cardboard Rocket (recommended for pre-school to grade six only)
Tales of the Maya Skies
The Dark Matter Mystery
The Sky Tonight (a live presented sky show that explores the planets, stars, constellations, and other astronomical objects seen in our night sky)
Two Small Pieces of Glass
We Are Stars
Laser Music Shows**:
Laser AC/DC
Laser Beyonce
Laser Daft Punk
Laser David Bowie
Laser Elton John
Laser Foo Fighters
Laser Halloween Spooktacular
Laser Holiday Magic (Christmas)
Laser Lady Gaga
Laser Led Zeppelin: Lased and Confused
Laser Led Zeppelin: Laser Zeppelin
Laser Led Zeppelin: Whole Lotta Led
Laser MGMT
Laser Michael Jackson
Laser Nutcracker (Christmas)
Laser Outkast
Laser Pink Floyd: Dark Side of the Moon
Laser Pink Floyd: The Wall
Laser Pink Floyd: The Vision Bell
Laser Pink Floyd: Welcome to the Machine
Laser Queen
Laser Radiohead
Laser Rolling Stones
Laser Rush
Laser Stranger Things ('80's music with a tie-in to the Stranger Things TV show)
Laser Symphony of the Stars (music from Disney, Star Wars, etc.)
That '90's Laser Show (music from the 1990's)
Laser Tool
Laser U2
Educational IMAX® Films:
*All prices +GST
**Please note: food & drinks are not permitted inside the Zeidler Dome. Please enjoy your food and drinks prior to your show in the Purple Pear restaurant.