A five-day teacher training intensive. Each participant will create a cross-curricular project that incorporates digital skill building. Participants will be given the tools to develop their lesson plans for the upcoming school year, including a class set of hardware to keep. Once school begins, teachers can participate in monthly webinars to help guide their work further, review progress, and learn more about teaching coding, computational thinking, and digital literacy.
Stay Tuned For More Information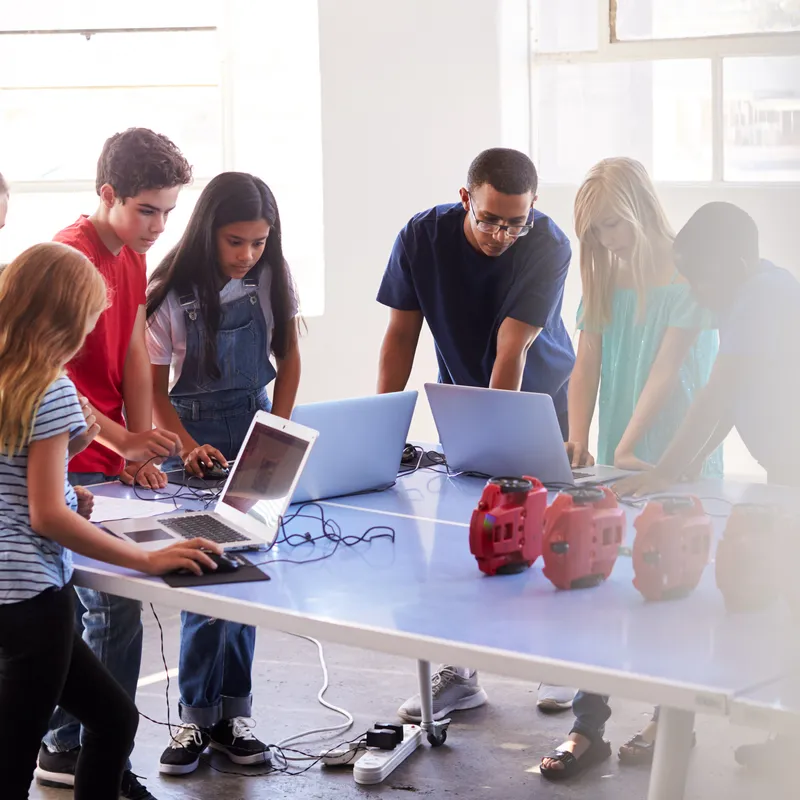 Teacher Symposium Application
Applications for the 2023-2024 school year are now CLOSED.
Apply Today



What Attendees Are Saying:
"I loved collaborating with others and the breakout sessions (hands-on time) is great!"

"My favorite part was the work periods, it was great to learn so many amazing things but it was really nice to be able to slow down and ask questions about specific projects we wanted to work on in our classrooms. That time was really valuable and I appreciated the feedback I got from the staff. "

"I will definitely recommend this symposium to my colleagues and my division. It was really worthwhile. Thank you so much for all the time and work that went into this week."

"My favorite part was expanding my knowledge on coding an all of the different routes I could take with it."

"As someone who came into the course with ZERO coding experience and knowledge, I was concerned that this would be beyond my capabilities. The team made all the technology feel accessible and gave every attendee the knowledge and understanding to actually use the materials in their classrooms."

"Northern Coding Academy helps bridge the gap between the complex world of coding to the classroom environment. I am leaving the week feeling motivated and confident that I can now utilize an entirely new set of digital and technological skills to engage and empower my students."
Frequently Asked Questions
Find answers to common questions about Northern Coding Academy.
1. Who can apply?
This program is open to certified teachers working at high needs urban schools, rural schools, and schools in the Yukon, NWT, and Nunavut. Travel stipends and accommodation are available for those travelling from outside of Edmonton.
2. How do I apply?
To apply, submit a short summary on why you want to explore digital skills and incorporate coding into your classroom. A letter of recommendation from your administration is required. Click here for the application.
3. Is there childcare available?
Limited childcare options are available, please indicate this requirement on your application.
4. What is the cost?
There is no cost to participants; workshop, accommodations, and food costs are covered by grant funding. Teachers outside of Edmonton will be reimbursed for travel expenses.
5. What topics will be covered?
The Symposium focuses on computational thinking, allowing a strong foundation for teachers to guide their students' learning in coding and digital literacy.
6. Can I apply for the Teacher Symposium simultaneously with other NCA programs?
Yes! You can apply for this program simultaneously with other Northern Coding Academy programs like Coding School.