This week-long teacher training intensive will run twice this summer, on July 18-22, 2022, and August 8-12, 2022. Each participant will create a cross-curricular project that will incorporate digital skill building. Participants will be given the tools to develop their project with their students throughout the subsequent school year, including a class set of hardware to help them realize their goals. Throughout the school year, teachers will participate in monthly webinars to help guide their work further, review progress, and learn more about teaching digital skills.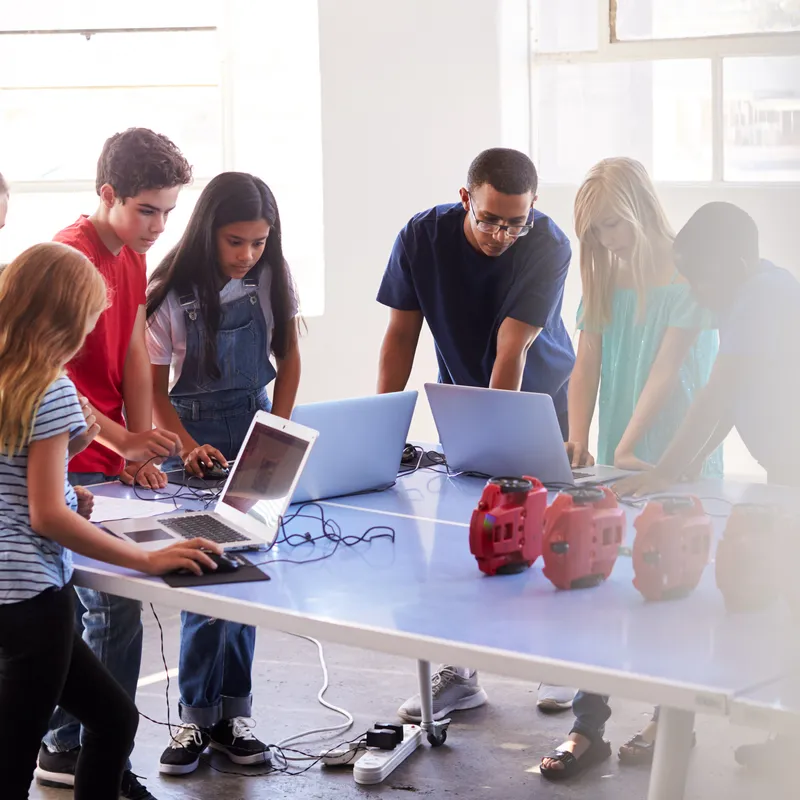 Teacher Symposium Application
Take the next steps and apply to the Northern Coding Academy's Teacher Symposium
Apply Today
Frequently Asked Questions
Find answers to common questions about Northern Coding Academy.
1. Who can apply?
This program is open to certified teachers working at high needs urban schools, rural schools, and schools in the Yukon, NWT, and Nunavut in 2022-2023. Travel stipends and accommodation are available for those travelling from outside of Edmonton.
2. How do I apply?
To apply, submit a short summary on why you want to explore digital skills and incorporate coding into your 2022-2023 school year. A letter of recommendation from your administration is required. Click here for the application.
3. Is there childcare available?
Childcare options are available, please indicate this requirement on your application.
4. What is the cost?
There is no cost to participants; workshop, accommodations, and food costs are covered by grant funding. Teachers outside of Edmonton will receive a travel stipend. Child care options are available.
5. What topics will be covered?
The Symposium focuses on computational thinking, allowing a strong foundation for teachers to guide their students' learning in coding and digital literacy.
6. Can I apply for the Teacher Symposium simultaneously with other NCA programs?
Yes! You can apply for this program simultaneously with other Northern Coding Academy programs like Coding School.
7. Are there any COVID-19 Restrictions?
TELUS World of Science - Edmonton strongly encourages participants to wear masks, however, masks are not required to participate in the Teacher Symposium.
The science centre strongly recommends full vaccination for any participants, but it is not required to attend.
If before attending the Symposium, or during the Symposium, you are experiencing any symptoms of COVID-19, or are not feeling well, please notify the NCA team via email at NCA@twose.ca
Note: this current policy may be updated to reflect any changes to the COVID-19 restrictions as mandated by the government in the future.